Depoimentos
"Motivador e inspirador ver esse trabalho social que poderá transformar a realidade dos adolescentes e de suas famílias através da educação."
Renata França
Co-anfitriã do Amigos do Instituto Ponte
"Saber é poder. Através da educação, é possível empoderar não apenas um indivíduo, mas famílias e uma sociedade inteira. Não existe arma mais poderosa para mudar o mundo. Ao reunir mentes brilhantes e trabalho sério, o Instituto Ponte desperta em todos o desejo de trabalhar pelo mundo melhor que tanto almejamos."
Géorgia Tardim
Co-anfitriã do Amigos do Instituto Ponte
"Na contramão da desesperança provocada pelo desemprego e recessão no país, conhecer o trabalho do Instituto Ponte é um presente que nos convida a participar apoiando o aluno meritório, apresentando resultados práticos, auditados e transparentes."
Brunella Bumachar
Participou do evento Bate Papo com os Alunos – Amigos do IP
PROJETOS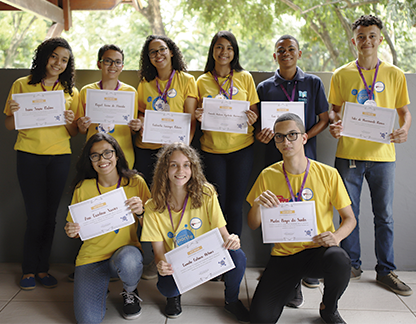 PROGRAMA BOM ALUNO
É um programa que desenvolve e acompanha o aluno a partir do 6º ano do Ensino Fundamental até a conclusão do Ensino Superior, dando-lhe a oportunidade de uma formação acadêmica de excelência. É a ponte entre o sonho profissional da adolescência e a realidade da vida adulta, com inserção no mercado de trabalho e êxito no exercício da profissão almejada. Busca-se também o aprimoramento das habilidades socioemocionais, dos aspectos de cidadania e solidariedade, para que se tornem possíveis agentes de transformação social.
Adote um aluno e seja uma ponte conosco! Saiba mais clicando aqui.SmartLook access to a <a href="https://www.superturbotax.com/">TurboTax specialist is included with Deluxe, Premier</a>, Self-Employed, and TurboTax Live; not included in Free Edition (but out there as an upgrade). TurboTax specialists can be found to provide general buyer help and support using the TurboTax product, not tax recommendation. Service, space of experience, experience levels, wait times, hours of operation and availability vary, and are subject to restriction and change with out discover.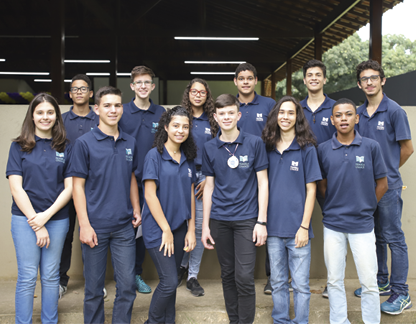 PRIMEIRA CHANCE
É um programa impactante e transformador. O trabalho é realizado dentro e fora da sala de aula, dando oportunidade a estudantes cujo potencial é limitado apenas pela falta de oportunidades. São identificados jovens talentosos de famílias de baixa renda que demonstraram capacidade e dedicação necessárias para serem bem sucedidos em sua vida acadêmica e também profissional.
O que os jovens querem é só uma chance, você pode dar a primeira! Saiba mais clicando aqui.
Últimas Notícias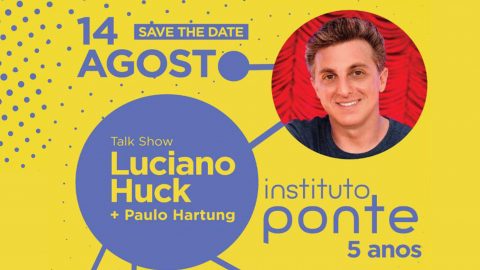 5º aniversário do Instituto Ponte: talk show com Luciano Huck + Paulo Hartung.
Atenção: O evento é fechado e devido a grande procura, as inscrições no site foram encerradas!
Leia a matéria completa
Acompanhe a seleção do Programa Primeira Chance
O Programa Primeira Chance é voltado para alunos do 8º ano, 9º ano do Ensino Fundamental e 1ª série do Ensino Médio de escolas públicas e membros de famílias de baixa renda. O ingresso no Programa é feito principalmente através da identificação dos alunos que se destacaram em olimpíadas escolares públicas. Antes de se inscrever, é […]
Leia a matéria completa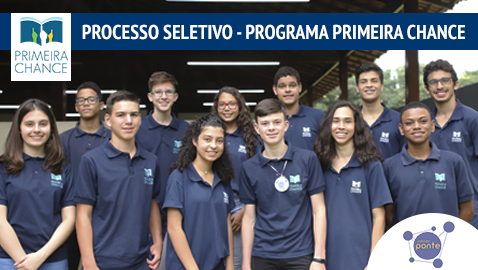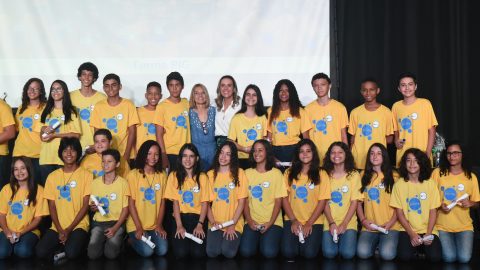 Aula Inaugural da turma José Antonio Gorza Pignaton
No dia 27 de março, reunimos uma plateia emocionada para celebrar a chegada dos 25 novos alunos do Instituto Ponte e homenagear um importante protagonista na educação capixaba: José Antônio Gorza Pignaton. A nova turma leva o nome do fundador do Centro Educacional Leonardo da Vinci, carinhosamente conhecido como Pig, e por desejar eternizar o […]
Leia a matéria completa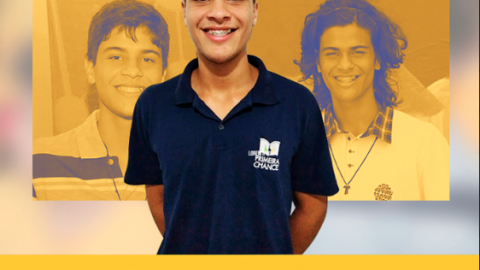 Antônio Mello: nosso primeiro aluno universitário!
Antônio Henrique Santana de Melo entrou no Instituto em 2015 pelo Programa Primeira Chance, é nosso primeiro aluno a ingressar na universidade! Ele foi bolsista no CE Leonardo da Vinci e sempre teve um ótimo desempenho. Tanta dedicação aos estudos somada a uma oportunidade de boa educação, levou Antônio a ser medalhista em olimpíadas acadêmicas […]
Leia a matéria completa
O Instituto Ponte é eleito uma das 100 Melhores ONGs do Brasil!
Estamos muito felizes de anunciar que o Instituto Ponte é uma das 100 melhores ONGs do Brasil e a única eleita no Espírito Santo, segundo o Instituto Doar e a Rede Filantropia! Entre as mais de 800 mil instituições em atuação no país,  as 100 melhores se destacaram pelo trabalho em prol da sociedade com […]
Leia a matéria completa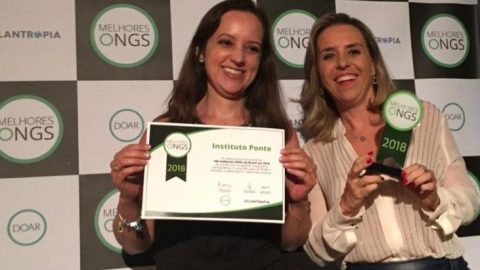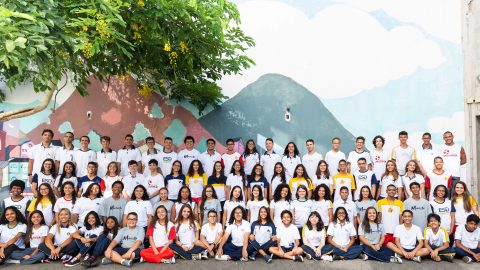 Nossos bolsistas de 2019!
No ano de 2019, 80 dos nossos estudantes estarão frequentando as melhores escolas particulares do Espírito Santo e o Instituto Federal. Esperamos que eles, com essa conquista, estejam cada vez mais próximos de realizarem seus sonhos. Um ano de desafios nos espera e nossos alunos estão prontos para superá-los!
Leia a matéria completa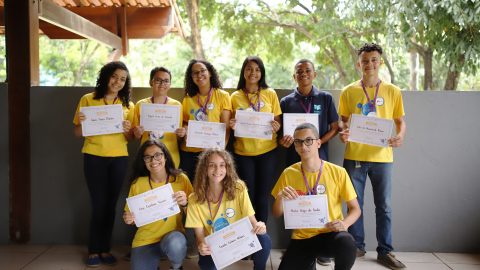 Nossos diamantes: alunos premiados de 2018!
Comemoramos o fim de mais um ano e celebramos as conquistas de nossos alunos: foram mais de 60 premiados por seus destaques ao longo de 2018.  Foi também graças aos esforços das mães e pais dos nossos alunos que essa festa foi tão linda. Os mais de 50 alunos que se destacaram por seus bons rendimentos […]
Leia a matéria completa
Confira o que rolou no 4º Aniversário do Instituto Ponte
Nosso 4º aniversário foi um sucesso! Comemoramos as conquistas, parcerias e todo trabalho do Instituto Ponte com muitos convidados especiais. Lélia Wanick Salgado, Sebastião Salgado, Gustavo Torres e Bruno Elias contaram um pouco sobre sua trajetória e destacaram a importância da educação. Confira alguns momentos do evento: Confira os depoimentos de alguns parceiros presentes no […]
Leia a matéria completa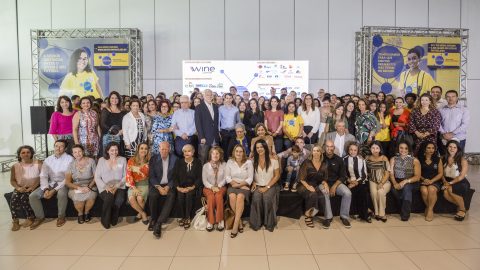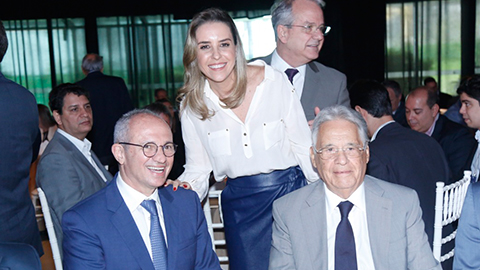 Instituto Ponte no Fórum IEL de Gestão 2018
Na última quarta-feira (22), o Instituto Ponte marcou presença no Fórum IEL de Gestão, importante evento que reúne lideranças empresariais, industriais e políticas para discutir assuntos econômicos. Nossa Diretora Presidente Bartira Gomes de Almeida apresentou o IP e a aluna Larah Lethícia, que compartilhou a sua história, aos 800 presentes no Fórum. Elas falaram […]
Leia a matéria completa